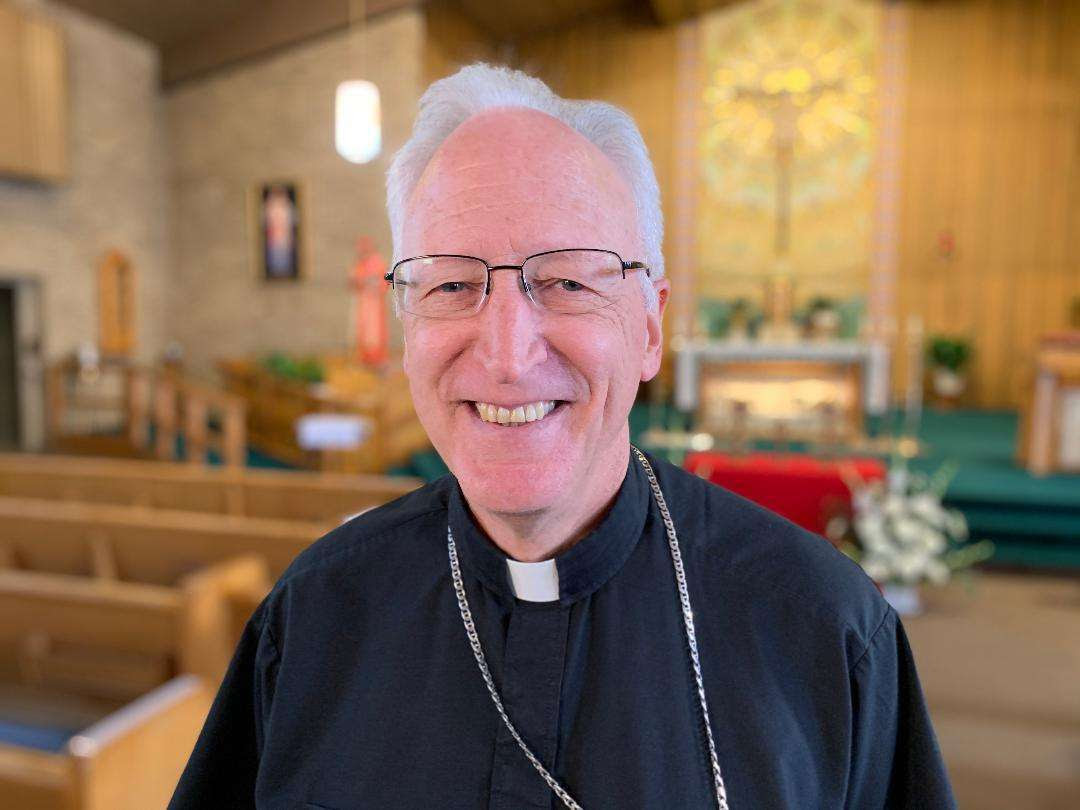 Friday, January 8, 2021
Christmas Weekday

"Do nothing from selfishness or conceit, but in humility count others better than yourselves. 4 Let each of you look not only to his own inter­ests, but also to the interests of others. 5 Have this mind among yourselves, which was in Christ Jesus," 
St. Paul's Letter to the Philippians, Chapter 2, Verses 3-5
Dear Friend,
We are now well into the 
Bishop's Year of the Bible
, a moniker, by the way, which did not originate from me! My aim with this year is to help us see Jesus in the Scriptures, to see the Word of God in the Word of God. It occurred to me that during this time of pandemic, we needed to keep our evangelizing efforts going and this was one way to do so.
The other way is to practice the spiritual and corporal works of mercy. Now in this time of social distancing, these actions may seem impossible, but they are not. There are many ways for us creatively to exercise these good deeds. The seven spiritual works are counseling the doubtful; instructing the ignorant; admonishing sinners; comforting the sorrowful; forgiving injuries; bearing wrongs patiently; and praying for the living and the dead. 
Certainly, in our families, in those day-to-day interactions, we can all exercise these works. Any time we seek to do this consciously and intentionally, we need to make sure that we are acting out of love, seeking the best for the other person. We can also try to use our writing and phone and computer skills to reach out to others, especially those who might be alone. In these times, especially, we need to forgive, not only for the other's sake, but so that we will be freed from burdens that we do not need to bear. And we can always pray, lifting up to our loving Father all those in need, both the living and the dead.
There are also seven corporal works. Many of these are described in that great scene in Matthew's Gospel, chapter 25, where Jesus separates the sheep from the goats on the basis of how well we cared for those in need. He tells us that we are thus treating one of his brothers or sisters. These works are feeding the hungry; giving drink to the thirsty; clothing the naked; sheltering the homeless; visiting the sick; visiting the imprisoned; and burying the dead. The visiting activities are tough in these days, but again we can try to meet these needs by writing or calling.
If we are striving to exercise these works of mercy, we will be evangelizing by our deeds as well as by our words. We have noticed a great fall-off in those attending Mass. Of course, many have very good reasons for doing so. Perhaps, after prayer and a conscious effort of love, we might reach out to our family members through one or more of these actions to let them see that for us, at least, Jesus is the Way, the Truth, and the Life. May the witness of our lives and our words invite back our brothers and sisters to the House of God and the Altar of the Lord.
Assuring you of my prayers, I am sincerely yours in Christ,
+ Earl 

Bishop of Lansing

Read: Meet Chad and Christina Church and their beautiful son, Wyatt Eddie. After the heartache of losing four pregnancies, Chad and Christina turned to Catholic Charities of Shiawassee and Genesee Counties to learn about fostering and adopting a child. The result? Wyatt Eddie. 
"When we look at the number of abortions that take place in our society, we know there are plenty of potential parents ready to love those babies," says Christina.
"After trying for two-and-a-half years and experiencing so many lost pregnancies, my eyes were really opened to how much a miracle babies are."
Chad adds, "We make a plan and God laughs. Our journey with Wyatt has been heartbreakingly and absolutely beautiful. We thank God every day for bringing him to us, and we ask for blessings on all the people who helped make us a family."
Read the full story of Chad, Christina and Wyatt Church in this month's FAITH Magazine, the official publication of the Diocese of Lansing by clicking 
here
. 

Watch: Beginning in Advent 2020, Bishop Boyea has been leading people on a day-by-day journey through the Holy Bible. To join him, go to Bishop's Year of the Bible by clicking 
here
. It's not too late! 
The Bishop is currently leading subscribers through Saint Paul's Letter to the Church in Philippi, a major Greek city northwest of the nearby island, Thasos. Why has he chosen this book as the next in his Year of the Bible reading list? Here is his explanation:
Watch: On the Path to Priesthood: Meet Diocese of Lansing seminarian, Riley O'Shea. 29-year-old Riley hails from Saint Michael Parish in Grand Ledge. 
He grew up in a family of five and attended public schools through high school. In school, Riley's interests were math and science which led him to pursue an engineering degree at Michigan State University where he graduated with a degree in Materials Science and Engineering in 2015. 
After graduating, Riley then worked in Saginaw as an engineer for three years while living at a Catholic men's formation house in Flint. He began priestly formation for the Diocese of Lansing at Sacred Heart Seminary in the fall of 2018. 
Today he explains how his life changed while on retreat at Saint Francis Retreat Center in DeWitt during his college years. It was a profound experience that has set Riley on the path to priesthood. Deo volente.
Please keep Riley in your prayers in the months and years to come. Saint Charles Borromeo, patron of seminarians, pray for him.
Watch: In August 2019, Bishop Earl Boyea convened a 15-strong committee and charged them with discerning how to realign the human and other resources within the Diocese of Lansing to help parishes better engage in the mission of Jesus to build up the Kingdom of God across the 10-county diocese. 
Known as the Realign Resources for Mission committee, they will report back to Bishop Boyea with recommendations later in 2021. Hosted by committee member, Pete Burak, this 41-minute presentation, below, will allow you to: 
* Discover why Bishop Boyea decided to initiate the the Realign Resources for Mission (RRM) process.   
* Go through the four principles informing Bishop Boyea's Realign Resources for Mission Vision.   
* Have the opportunity to give written feedback to them and the RRM process in general via this online survey 
here
.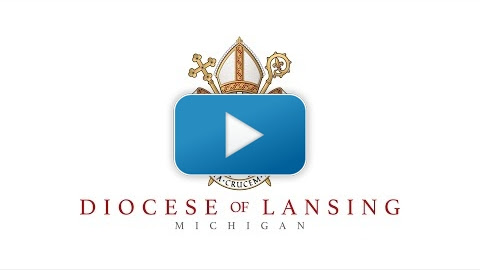 The presentation has been shared in 67 parish meetings across the Diocese of Lansing in recent months, both in-person and virtually, and has seen approximately 2,500 parishioners participate and has elicited over 1,800 written submissions from so far. 
This video was created for use by those few parishes who did not host parish meetings. It can also be used, however, by any parishioner who was unable to attend their particular parish meeting. Please submit any feedback by January 15, 2020. All feedback will be read by the Realign Resources for Mission Committee. 
Why is all that important? Because, informed by your feedback, the next step for the Realign Resources for Mission process is to begin drawing up a range of concrete proposals which will come back to each area of the diocese for further comment later this year before going to Bishop Boyea. Hence, your input is both valued and appreciated. Thank you. God bless you. 

* Presentation recorded on November 25, 2020. 
------------------------------------------------------------------------------------------------------------------------------------------------------------------------------------------
Friday, November 20, 2020
Friday of the Thirty-Third Week of Ordinary Time
"Thus, a good man, though a slave, is free; but a wicked man, though a king, is a slave. For he serves, not one man alone, but what is worse, as many masters as he has vices," Saint Augustine of Hippo, City of God
Dear Friend,
Do you and your family want to have a happy Thanksgiving? Of course you do. Thus, in addition to all those wonderful recipes for roast turkey, cranberry sauce and pumpkin pie, let me suggest just one extra ingredient: Temperance. 
Temperance is another word for moderation or self-mastery. The pursuit of it is a training in human freedom. The alternative is clear: either we govern our passions and find peace, or we let ourselves be dominated by them and become unhappy (Catechism of the Catholic Church #2339).
Temperance is the Cardinal Virtue we all understand. When St. Paul spoke about this "self-restraint" to the Judean Governor, Felix, Paul was hoping to convert the Governor (Acts 24:25). When presented as the natural virtue of moderation, who would not be convinced? But Paul linked this with Christ and the righteousness Jesus brings raising the demands of this virtue to a higher level.
Earlier in his ministry, Paul had listed this self-control as one of the fruits of the Holy Spirit (Galatians 5:23), thus indicating that there is a graced element to this virtue. It is certainly built on our ability to train ourselves and discipline ourselves (I Corinthians 9:25) so that we do not let our internal appetites or external forces control us. 
But the real aim is to have an inner strength so that we do not get dragged down to our baser selves.  The great model for this is Judith who maintained her dignity even as she misled the great Holofernes and eventually killed him (Judith 11-13).  Thus, as a gift of God, temperance is not just about holding back, but about marshaling our efforts in a disciplined way in order the better to serve God.
Since this grace presumes the natural virtue, it is always important that we do gain control over our passions and appetites so that we are able to muster our energy to achieve a greater good.  The Book of Sirach gives good advice: "Do not let your passions be your guide, but keep your desires in check" (18:30).
Sisters and brothers, we are to be temperate in what we eat and drink and in the pleasures we enjoy. We are not to lose control of ourselves to these things.   However, we do not gain this mastery of ourselves for its own sake.  Rather, we wish to offer ourselves to God and His will for us.  We do not wish to be a slave to ourselves or to anyone else or to anything else.  With St. Paul, we will each call ourselves, "a slave of Christ Jesus" (Romans 1:1) for we no longer belong to ourselves but to Jesus.
Assuring you of my prayers, I am sincerely yours in Christ,
+ Earl 
Bishop of Lansing 

P.S. Don't forget to sign up for my Year of the Bible which starts this Advent. Just click on the blue button below to register. It's that simple. Together, let us make this a deeply spiritual year for all of us!
Watch: On Sunday, November 15, Catholics from across Michigan braved heavy rain to converge upon Lansing in order to participate in a rosary rally and Eucharistic procession culminating in Benediction of the Blessed Sacrament upon the steps of the State Capitol. Through the storms, the prayerful plea of the pilgrims was simple: unite our nation by the grace of God and through the intercession of the Blessed Virgin Mary, our nation's heavenly patroness. To know more about Unite Our Nation, click 
here
.

Watch: As you know, Bishop Boyea would like to invite you to join him in reading the Holy Bible over the span of 365 days starting on the First Sunday of Advent, November 29, 2020. But why? In this Diocese of Lansing podcast Bishop Boyea discusses: 

* Why he felt drawn in prayer to declare a Year of the Bible. 
* Why you should consider joining him in this Year of the Bible. 
* Why he has chosen the books of the Bible he has. 
* How to read the Bible prayerfully. 
* What he hopes the Diocese of Lansing will gain from this Year of the Bible. 

Asking the questions is David Kerr, Director of Communications for the Diocese of Lansing: 

Read:
  This month's FAITH Magazine, the official publication of the Diocese of Lansing, features some remarkable first-hand testimonies of young Catholics including Lansing Catholic High School student Noel Spence who admits that his senior year looks different than he expected. 
"School is more complicated now wearing masks, social distancing, wiping down the desks," he says. But Noel's focus isn't the pandemic, or even the changes that it's brought. Noel sees God at work in 2020. 
"I think God is our best support in these tough times. The fact that we're able to go to Mass now is great – we can praise God and receive the Eucharist, and that really is most important. Things might not be the best right now, but God is helping us as we go." Read Noel's story in full 
here
.